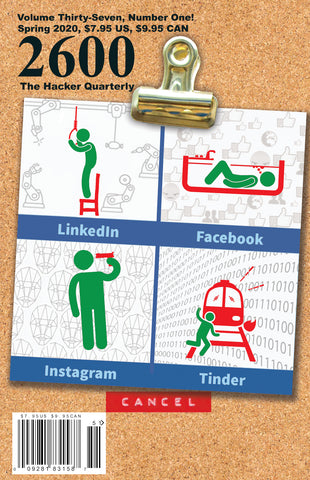 Spring 2020 (Only available in our FULL SETS and our DOWNLOAD SECTION)
Cracking Your Neighbor's Wi-Fi for $180
Hax0rz? Sniffing My Critical Infrastructure?! It's More Likely Than You Think!
Null-Routing Facebook Using Small Tech to Fight Big Tech
Learning Programming Through Hacking AOL - A Journey Through Hazy Middle School Memories of Discovering the Joy of Code
Has Your Password Been Pwned?
Antique Malware Can Still Bite You - Investigating Malware in an Old File Format
Why Is the DoD on My APN?
More Advanced Processors, Greater Privacy Intrusions
Printers: The Overlooked Security Concerns
EFFECTING DIGITAL FREEDOM
The USPS Informed Delivery Service as a Phishing Data Source
Yahoo Groups and the Legacy of Internet Content
The Freephones of Whidbey Telecom
Point of Sale Shenanigans: Authorized Unauthorized Transactions
Would You Like Some Pancakes With That Breach?
An Introduction to Chaff - an Anti-Forensics Method
Plus LETTERS and MARKETPLACE