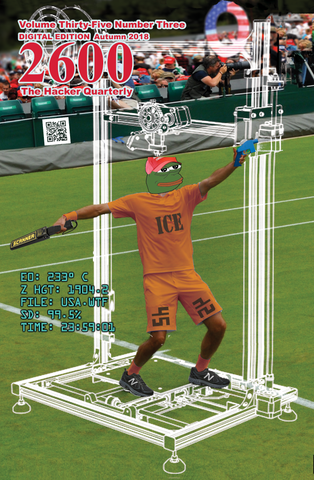 Autumn 2018 PDF Version
After purchasing, you will get a download link. You will also get this link via email.
CONTENTS:
Removing eBook DRM without OCR or GUIs
A Carrier Pigeon Revisited
The Evolution of Ran$omware
Hackers to the Rescue! (Maybe)
Book Review: The Art of Invisibility
GDPR – Active Empowerment vs. Passive Consumerism
A Characteristic Study of IoT Botnets: Understanding the Design and Behavior
Ms. Reality Winner is an American Dissident
More Ways to View Hacking
EFFECTING DIGITAL FREEDOM
Totalitarian Control: How We Used PowerShell to Manipulate User Behavior
What Do Lawyers and Hackers Have in Common?
No Country for Incarcerated Hackers
Bypassing Email Anti-Spam Filters
Hacker History: MDT or "The Mass Depopulation Trio"
Testing Your l337 h4x0r skillz Safely and Legally
Plus LETTERS and MARKETPLACE