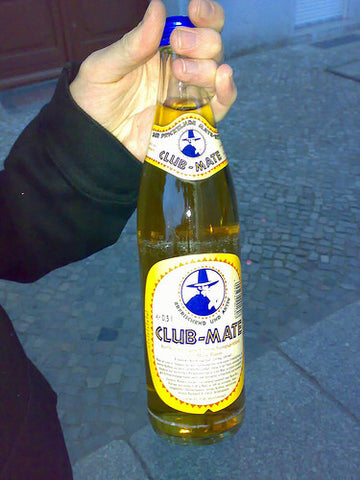 Club-Mate Original (one bottle)
Have you tried Club-Mate yet? Don't want to commit to a whole case? Then take advantage of our single bottle offer. It's just like going into a store and buying a half-liter glass bottle, except that it comes right to your home or office without you having to go anywhere!
This is the flavor that has created a generation of Club-Mate fiends. Even those who claim to not fall instantly in love with it often find themselves coming back for more. And when you've had enough of the energy burst, you won't get the typical caffeine crash. It's often said that if the Beatles had discovered Club-Mate, there would have been at least one more album. Michelangelo might have gotten around to actually writing his own computer virus. And Beethoven would have had the energy to keep his apartment clean after staying up all night programming. So just imagine what amazing things you'll wind up creating.
Shipping is via UPS. That means we can't ship to post office boxes. We also have to limit this to the continental United States, at least for the moment. Please don't try and order this if you're in Hawaii, Alaska, or another country.