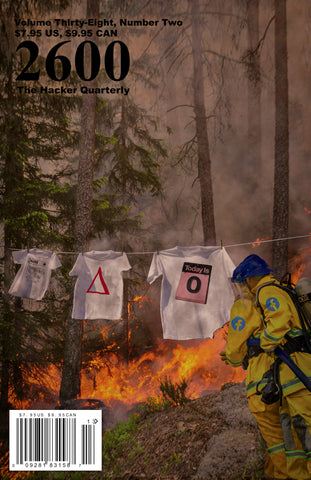 Summer 2021
More Privacy and Better Security Through Email Diversification
Three Fundamental Questions
Municipalities Pwned at Greater Rates!
The Demise of Network Security
Hacking Motion Capture Software and Hardware
How to Read 2600 Magazine
Verified Badges for Everyone?
Vulnerabilities in Deep Artificial Neural Networks
The Telegraph Regulations and Email
EFFECTING DIGITAL FREEDOM
When 5G Technology and Disinformation Collide
How to Hack the American Mailz
"Post-Quantum Cryptography" Is Not Going to Work
Book Review: RESET: Reclaiming the Internet for Civil Society
How To Create Your Own Privacy-Enabled Sunglasses
A File Format to Aid in Security Vulnerability Disclosure
"Hello fellow sentient being."
An Atavistic Freak Out, Episode One
Plus LETTERS and MARKETPLACE