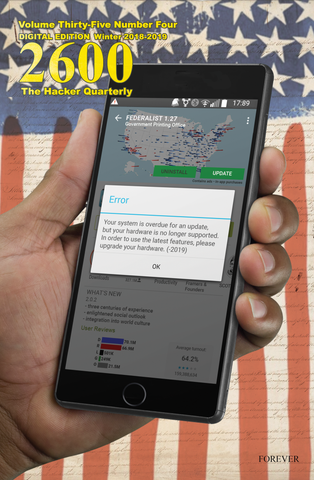 Winter 2018-2019 PDF Version
After purchasing, you will get a download link. You will also get this link via email.
CONTENTS:
AV1: One Giant Leap for Video-Kind
Social Engineering from Prison
A Brief Tunneling Tutorial
Quantum Computers and Privacy
Hacking the School System
A Reading of the AI Hype Meter
Sorting It All Out: The Long Lost Bastard Children of the United States Postal Service
Configuration Negligence: Who is Responsible?
EFFECTING DIGITAL FREEDOM
Facts About Honesty/Integrity Tests and Interviews
Book Review: Surveillance Valley: The Secret Military History of the Internet
Book Review: Ten Arguments for Deleting Your Social Media Accounts Right Now
Modem and Me: The Loose Ends
Making an Informed Business Decision Using Public Financial Records
Hacking in a Slow Job Market
Fiction: Hacking the Naked Princess 0x16
Plus LETTERS and MARKETPLACE